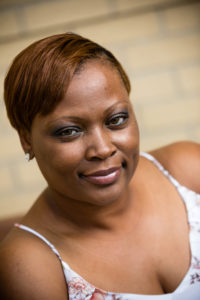 Letrise Carter is the founder and creator of her own business venture launched in February 2016 called Sistah's Creative Media.  She is the editor, writer for Sistah's Place Entertainment Blog, Maya's Blog Showcase, and Sistah's Blog. 
After working in Corporate America for 17 years, Letrise came to the conclusion that it is time to step out on faith to make her dreams a reality. Now that her daughter is a college graduate she has tapped into her gifts, talents, and passion for writing.  Letrise is taking on multiple endeavors from author to business owner.
The fact she loves to talk , write, and interact with those following their dreams in television and film gave her the idea to launch a dynamic and unique entertainment showcase to highlight the careers, journey, and path of many known and unknown actors, actress, producers, directors, national authors, and indie authors.
Letrise had the pleasure and honor to interview  some award winning mean and women in film and television like Akil DuPont, John L. Ruffin, Thea Camara, Timon Kyle Durrett, Brigid Turner, and Christopher Nolen just to name a few for the Entertainment showcase.
For the author's showcase, Letrise has interviewed some indie authors and national best-selling authors such as Victoria Christopher Murray, Nina Foxx, Jacqueline Thomas, Toni Larue, Lady Lissa, Catherine Crumber, Felicia Malone, Janine Carbone, and many more.
Letrise has written as a freelance writer for Beautifully Said Magazine, and Caution Magazine.   She is thriving hard and engulfed into her passion for writing her first novel titled Deceitful Secrets released in August 2017.   Deceitful Secrets is a trilogy series that will release series each year. 
She is working on a collection of short stories that will include poetry that will inspire and give hope to others titled Sistah's Pearls- Collection of short stories and poetry anticipated for December anticipated release winter 2018. A third novel that will come out in late 2018; The Naked Truth which is a non-fictional story based on her life and few inspirational blog articles.   Letrise is learning to balance multiple hats as writer, editor, and entrepreneur, and author has been a journey in itself since the inception of Sistah's Blog in 2014.
Letrise dream has always been to write for film and television  and that she anticipates writing her first scripts.  She never imagined writing a novel.  In college and earlier years of high school she wrote short stories and poetry to express her feelings.  It was a tele-seminar that inspired her to start sharing the stories that take place in her wild imagination.  It's never too late to share your story with the world.   What a dream! Dreams require work, dedication, determination, and big vision that Letrise is willing to do that will breathe life into her dreams. 
Letrise has published article featured on cover of Caution Magazine, articles such as:
"Why Do Black Women Compete with One Another?"- (June issue)
"Are You Your Sister's Keeper" (August issue)
"My Black is Beautiful- A sister's Journey" (July issue)
"You have to dream big and soar high for this life has no limits."
 You can check out her other platforms on the following websites:
Be sure to follow Letrise on Social media at
Twitter:  @sistahsplace2 and @authorLetrise
IG: Letrisec