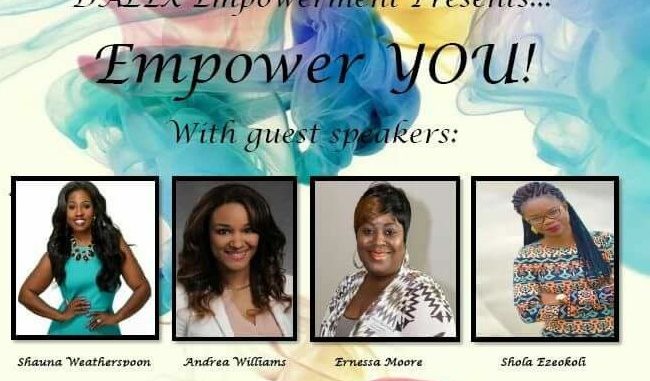 The Empower You conference was presented by Dalex Empowerment Consultants yesterday at NIU Naperville Conference Center.  The guest speakers were truly empowering, motivating, and encouraging to the entrepreneurial women present.  The venue was a great opportunity to network with other small business owners that would allow women to be of service to one another.
This was my first time attending an Empowerment event for women.  I must say the "golden nuggets" of wisdom dropped by each guest speaker empowered your spirit, gave you things to think about, and opened opportunity for networking with other business minded women.   I will share golden nuggets from each of the guest speakers that we as women in business should be mindful as we are empowered to be the CEO of your lives.  Our guest speakers were as follows:
Shauna Weatherspoon
Andrea Williams
Dr. Shola Ezeokoli
Delores Alexander
Ernessa Moore
Where do I began to talk about those "Golden Nuggets of Empowerment?" Each speaker had a unique nugget of empowerment for us to take away that will serve as reference, resourceful information, tools, and affirmation to be empowered.  You know that you were a dedicated listener taking good detailed notes that will be reference for a long time.  A few highlights from the Empower You conference that served a purpose around #GRIT, Financial Planning, #SHIFT, and #IMAGE.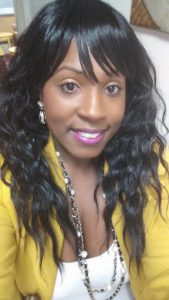 Guest Speaker Shauna Weatherspoon, is a best-selling author of Pure Wealth and business owner. She  let us know that we are here to collaborate, network, and build relationships.
As a business woman, the questions must be asked How can I support your business?  How can your business support me?  Stop wasting time on unproductive meetings where we don't accomplished anything.  We have to be intentional about who we spend time with and be coachable and teachable.  Why waste valuable time being unproductive? It does not serve your purpose, your talent, nor your gift. Time is valuable.  A great nugget she dropped that we all make the mistake doing is discounting our gifts.  Stop discounting our gifts and charge what we are worth. Know your worth is key take away.
Another key take away was about  GRIT.  The letters in the acronym have a powerful meaning that each woman should have as a entrepreneur.
The G stands for Grace and Gratitude.
The R stands for Respect of Others
The I stands for Intelligence
The T stands for Trainable- It's okay to work with folks smarter than you and even your competition.
Guest Speaker Andrea Williams from Northwestern Financial Group talked about 7 mistakes to avoid and the importance of having a Financial Planner. I will talk in more detail in next article Money & Wealth segment.
The right team
Not Having a Plan
Protecting Your Income
Priortizing Debt over Savings
No Legal Planning
No Plan for Retirement
Not Protecting Your Family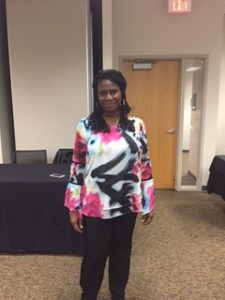 Guest speaker Delores Alexander lead with I am the CEO of My life  quote from renowned author Patrice Washington Worth Statement.  She empowered the women to be the CEO of their life  and declared we are under new management.  I enjoyed her speech to empower the women in the room to SHIFT. The acronym simple means Stop Having Insecure Feelings and Thoughts.
Delores explained how important it is for you to find your gift, develop, and nurture your gift.  Most important to SHIFT so that your not blocking your gifts ability to grow and shine.  She gave the women the 4 R's so that you can move to the next level.  I got so much from her segment that we will talk more about her golden nuggets in another article.
Repair-means to repair broken relationships that could be business or personal
Restore-upgrade and update so that you can be ready
Remove-remove dead things that attract predatory people. Dead things cannot grow.
Release- Let Go of the past pains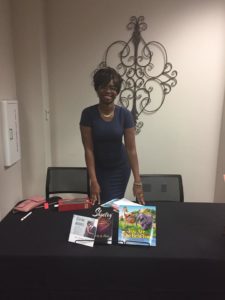 Our guest speaker Dr. Shola Ezeokoli is an Physician, best selling Christian author, Life coach, and speaker dropped some nuggets that require us to spend more time with the good doctor.  Dr. Shola Ezeokoli  talked about Balanced Life and Stress Management.
The golden nuggets are so important to we as women because we multi-task to the point of the Superwoman syndrome.  We burn ourselves out and we crash.  She shared the 5 pillars of Balanced Life and 6 Keys for Stress Management.
I look forward to going into detail with Dr. Shola Ezeokoli on my Blog Talk Radio show segment Sistah's Voice on Sistah's Place.
5 Pillars of Balanced Life
Physical
Emotional
Mental Health
Relational Health
Spiritual
6 Keys to Stress Management
Focus on the Positive
Connect with God
Take a mental break
Blow off Steam
Self Care
Talk to a Professional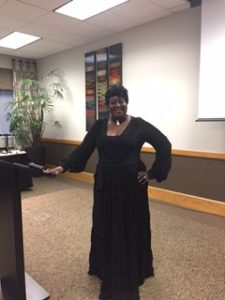 Our final speaker was Ernessa Moore gave us our closing golden nuggets.  She asked the question, what does Image mean to you?  Immediately I thought of it from a business point of view because I look at IMAGE as your brand and who you identify with your customers or audience.  Well, the acronym stands for the following:
I stands for Inner self (heart & Passion)
M stands for Mastering your Passion & Gift
A stands for Accountability
G stands for Genuine (Be genuine)
E stands for Easy to approach
Now the guest speakers were powerful and empowering.  Then you had the opportunity to walk around to visit the small business owners showcasing their business, products, and talents.  The many talents of entrepreneurs, aspiring actress, travel agent, artists, authors, unique designers, and much more.  I look forward to attending the Empower You conference next year.
Do you feel empowered?
Visit some of the small business websites & Social Media
https://www.alfredasbooks.com/
https://www.facebook.com/Angie-Redmond-Artist-202639976598059/
https://www.angieredmondartist.com/
https://www.facebook.com/shola.shade/
https://www.facebook.com/kathylynnboutique/?pnref=about.overview