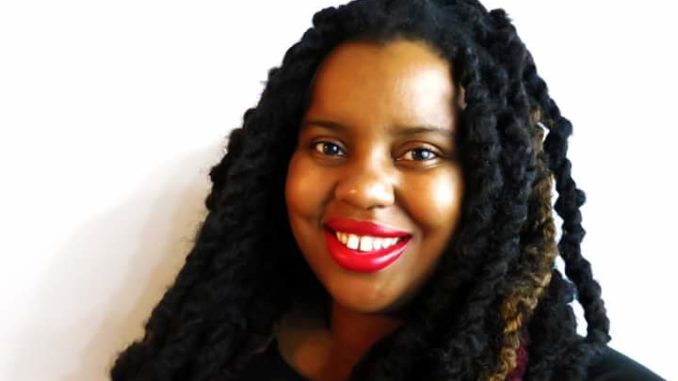 Our featured artist of the week is Angie Redmond a figurative and portrait artist from Chicago, Illinois.  She is a gifted and talented artist whose artwork has been shown nationally in various museums, galleries, and university ranging from Chicago, New York, and Miami.  Angie has been drawing since she was a little girl taking pictures of celebrities from magazines that she would draw and paint.  She was amazed at how good she was and fell in love with drawing and painting at a young age. 
 Angie earned a Master's of Science degree in Digital Art from Knowledge Systems Institute in Skokie, Illinois and Bachelor's of Arts degree in Studio Art that emphasizes in oil painting from Albion College in Albion, Michigan.  It was during her final year in college where she met Professor Michael Dixon who she gives credit for helping her to develop her style of painting.  Angie's pieces are representational expressive and contain both oil and drawings.  She uses her personal experiences to focus on her artwork on various social issues within a culture.  For example, the subject of natural African American hair is a reoccurring theme within her art.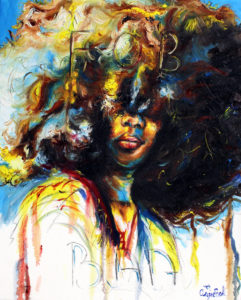 FOB with my BAA (Fresh Off the Boat with my Big Ass Afro)
Angie has natural hair herself that led her to face a lot of ridicule and negative views about her coils.  She uses that energy and mood to draw on those types of experiences that allows her to celebrate a unique creativity with her paintings and drawings to celebrate natural hair for its unique distinctness.  Angie likes to use thick texture and vibrant colors of the oil paint and the love for the complexity of humanity that keeps the brush in her hand.  She uses her own personal narrative to honor her race and celebrate all of the human spirit.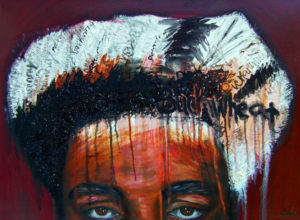 What inspires her art?  She says, her artwork is inspired by people and the elements of life.  Whenever she encounters a person with natural hair proudly on display or various deep expressions given by individuals going through everyday life; Angie would immediately envision the beauty of their image on her canvas.  Angie is inspired by her cousin Rob Juice a professional jazz entertainer because he encourages and gives her creative ideas for her art.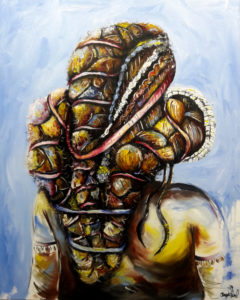 Representing Their Pride Elaborately
  Some of Angie's favorite artist whose artwork has inspired her creativity is Kara Walker, Beverly Mclver, Jenny Saville, Kehinde Wiley, and Michael Dixon.  Her artwork can be seen around Chicago where she participates in lots of vendor and showcase events like Stage 773, The Merchandise Market, Chicago State University, Citlain Gallery and Theater, The Little Black Pearl, The Swift mansion, Tall Grass Arts Association, and The Southside Community Art Center.  Angie sometimes paints live at some of the shows where she paints an original piece in front of the audience.
 We all have big dreams and goals for where we want to be with her gifts, talents, and career.   Angie has three goals that she is working very hard to make happen for her artwork and career.  First, she wants to open her own art gallery in an old industrial building that she can renovate to have a first level as art gallery with a second level as her living loft.  Second, like any artist she strongly desires to have her artwork known worldwide, collected by celebrities, and influential people.  Lastly, Angie dreams of being a part of art history books for future students to study and practice. 
What's next for Angie Redmond the artist?   She is working to complete her new series entitled, "Never A Bad Hair Day".  This series celebrates the natural hair movement and will be displayed at Albion College in Albion, Michigan in November 2017.  Angie is developing a workshop to teach art lovers how to paint and completing the children's book that focuses on natural hair.  She is doing all of her illustrations for this book. 
 Angie is focused on building her brand by starting a YouTube channel that will focus on her journey about her art career.  Meanwhile, she is searching for gallery representation nationally and internationally.  One of Angie's biggest dreams is to show her paintings in Paris.  One of her favorite quotes is "Impossible is Nothing" because it reminds her  that anything she wants out of life, she can make it happen with prayer and hard work and that is exactly what Angie intend to do!   
 Angie's artwork is available for purchase by sending an inquiry to her email at angieredmondartist@gmail.com.   All perspective buyers can visit her website to view her artwork and prints can be purchased through www.fineartamerica.com and www.redbubble.com .  Follow Angie on social media platforms to see what's she is up to and stay current on her drawings and paintings.  Do you see something that you like?