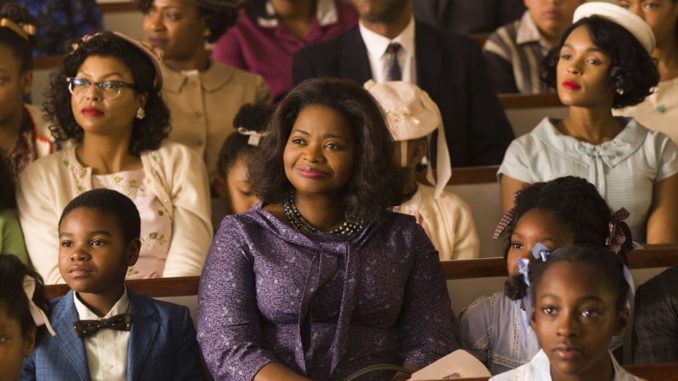 Hidden Figures movie was a box office hit this past weekend.  I had a strong feeling this movie would be a hit by the sold out theater.  The movie tied this weekend for the number one spot at $22 million.  The movie was based on true events about three women mathematicians who worked in the NASA space program who played a critical role in putting men in space.  The story was originally told by author Margot Lee Shetterly in her novel titled Hidden Figures as she told the story of three heroic women.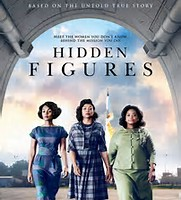 Taraji P. Henson portrayed Katherine G. Johnson.  She did a phenomenal job in this role.  She is a talented and gifted actress.  One of my favorite actress.  Taraji P. Henson gave life and honor to her role as she played Katherine G. Johnson.  I must say it was inspiring to see a black women calculating complicated math in her head and by hand that gave you a new respect for math.  Like many in the packed filled theater, witnessing Katherine ( Taraji P. Henson) run from one side of the campus to the ladies room had me tired with her.  Most important, it was uneasy to see how black women were treated during that era.
I felt like crying to see the barriers that she had to endure working with a bunch of men.  The strength she portrayed  working with men who didn't see her as equal took courage and determination to do something great.  Most importantly, she didn't let any of the barriers placed before her with the black marker (trying not to give too many spoilers).  She proved to be an asset to a team of men that didn't respect her at first, but eventually would learn to respect her talent and job.
Janelle Monae portrayed Mary Jackson.  She did a great job portraying her character who didn't allow color or inequality to stand in her way to become the first female engineer.  I loved her feistiness and her determination to be the first.  One of my favorite scenes with her was the conversation she had with the judge about being first at something.  Mary Jackson tackled segregation in education and did not allow that to stop her from going after what she wanted.  Mary was funny at times and kept the ladies smiling.
Octavia Spencer portrayed Dorothy Vaughan.  I loved her on so many levels because her character empowered sisterhood, drive, determination, and power.  She was key to pushing for better assignments for her girls.  Dorothy's (Octavia Spencer) showcased determination to go after something that she wanted regardless of challenges placed along the way.  I loved how Dorothy got the IBM machine working when no one else could.  She taught herself how to program a machine that would eventually replace her team.  She made her position an asset by thinking outside the box.
All of the women are heroes and their stories will forever be inspirational.  The three beautiful actress that portrayed these dynamic Hidden Figures gave life and honor to their roles. The sisterhood shown through out the movie between them was heartfelt and inspiring.  The barriers Katherine, Mary, and Dorothy would unlock for women of color is a blessing.  We have to give honor to those that go before us to break down doors of inequality and segregation.
We need to continue to tell the stories of more Hidden Figures in history so that our daughters are reminded of the true heroes.  Movies like this inspired us and our daughter to pursue dreams, use gifts, talents, and know that minds are a great tool of power.
Margot Lee Shetterly we thank you for sharing a beautiful and inspiring story of great women and a sisterhood that is missing among black women in work place.  I loved the music in the soundtrack to by Pharrell.  Go see this movie if you didn't catch it this weekend and definitely go get the book.
Photo credits:  Twentieth Century Fox