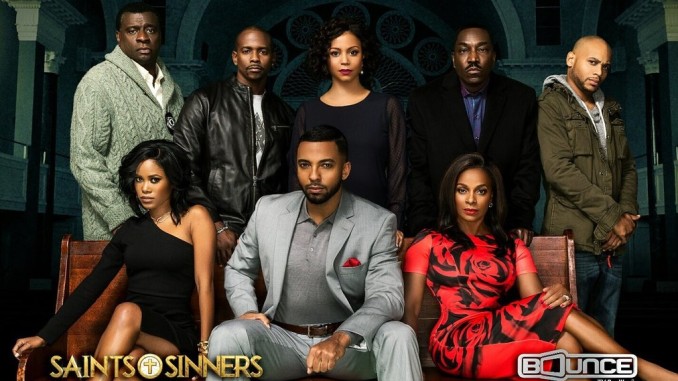 Bounce TV network has a new television show that is HOT on Sunday nights.  This past Sunday, March 6th was the premier of Saints and Sinners.  I was hooked in the storyline and the plot of the story of The Greater Hope Baptist Church.  This drama series will keep you hooked, talking back to the television, develop a love hate relationships for your favorite characters.  The cast line up is filled with an amazing team of seasoned actors and actresss that truly shine in their characters.  I look forward to watching each character unfold during this drama series with Clifton Powell, Vanessa Bell Calloway, Christian Keyes, Jasmine Burke, Keith Robinson, and JD Williams just to name a few.
This show is filled with power, greed, deception, corruption, and murder located in Cypress, GA.  The Greater Hope Baptist Church has a few secrets and with the return of the prodigal son and shocking murder will rattle the community.  This is a must see drama series that will keep you locked in on Sunday's.
http://www.bouncetv.com/shows/saints-and-sinners/
If you missed the premier, there will be an encore shown so you will be caught up by Sunday night.  Sunday's is perfect day to sit down with family and friends to watch Saints and Sinners.  This is going to be a show that we become hooked to each week as the plot thickenings.    Bounce TV network is creating great shows that are original and entertaining.    Check out Saint's and Sinners on Sunday on Bounce TV 9pm/8pm CST.
We will be live tweeting this Sunday during the show!  Will you be ready?