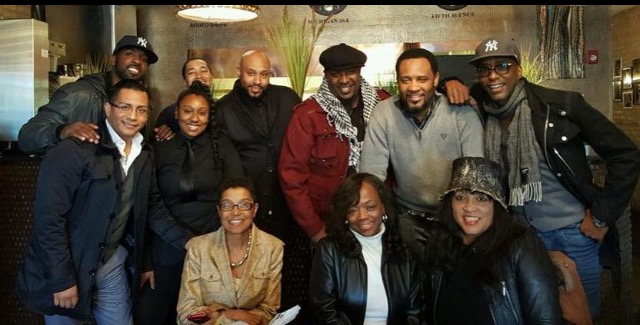 Play review:  A spoiler alert.
I had the pleasure of attending my first stage play directed by John L. Ruffin on Saturday, May 8th as a pre-Mother's Day treat with my daughter and friends.  The location of the play was at Thornton Township High School in Harvey, Illinois which was Mr. Ruffin's city where he grew up.  This is his last production here in Chicago and what better way than to give a show that would be one that we would not forget.  It was a sold out show with people that came to show their love and support for Mr. Ruffin.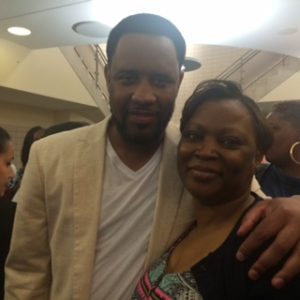 I must say the singing was amazing and the vibe between the cast and the audience was awesome.  When you can engage and relate to current scene then you know the message was right.  As I sat there laughing, engaging, and smiling at the dynamic cast of Jackee' Harry (Sharon), Trina Dorsey (Lettie), Todd Rusean (Sidney) Richard Gallion (Maurice), Tasha Collins (Charmayne), Sandy Redd (Zayda), Danny Stewart (Ernest), Gori McCoy (Bree), Alonzo PK Ruffin (Charles), Chris Bolton (Keith), Lakisha Hillard (Nicole), Christian Keyes (Donovan), Miguel A. Nunez (Trent), and Nyfesha Miller (Mary).  The finale show is Sunday, May 8th on Mother's Day.
All the cast members did an outstanding job.  Each character's role had a message to deliver that was relatable as they entertained the audience.  Charles and Lettie's characters were hilarious as they were still married but living in separate homes but still had relations.  Let's not forget Sidney played by Todd Rosean was hilarious with his jokes and he can sang too.   Meanwhile, Trent's role played by Miguel Nunez was the man that many women can relate to that wanted you to change everything about yourself and you find yourself being lost in a man who does not see the true beauty of you.  Her rescue man was Pastor Keith played by Chris Bolton to show love to Charmayne played by Tasha Collins.   Her shoulders pads had me in stitches, but this sister can sang… The love she deserved found her.  The message there, I must say in my opinion we are always looking for Mr. Right and we overlook the man that has been there all along who truly see us as the beautiful woman that we are without trying to change us into something that we cannot live up to because it's not realistic.
Nicole played by Lakisha Hillard and Maurice played by Richard Gallion had two messages.  The first message was a message to forgive your husband for his past mistakes especially if you stayed.  Marriage is a partnership and it comes with trials and tribulations that require work and forgiveness.  What you do in the dark has a way of coming to the light when you creeping on your spouse.  Second, be careful what you do in front of your children because the affect can be painful.  Also, never tear a man down in front of his children when he is present or not.  It was very nice to see Maurice played by Richard Gallion find his faith and show that a black man can be a responsible father to his children and work hard to take care of his family.
Donovan played by Christian Keyes character had the ladies in the audience hit the floor with the bathrobe scene.  He played the famous "Sidepiece" as he put it.  His character was a good man looking for his Ms. Right but she was married.  It was nice to see the male as the side piece than the woman and he showed how easy it was for a man to get caught up with a married woman.  Yet, he also was able to let it go when Nicole played by Lakesha Hillard learned her lesson and lost the man she loved.
The overall performance was amazing and I truly enjoyed the singing that inspired and entertained the audience as we sang along to some of our favorite church songs and songs like My Girl by the Temptations, Hello by Adel, and Tina & Ike Turner's Nice & Slow sanged by Zayda played by Sandy Redd.  I am sure everyone will walk away with different messages but the most important message is forgiveness.
Mr. Ruffin will be missed here in Chicago.  I am looking forward to seeing more productions in theater, film, and television from him.  He is taking his production to another whole level that will continue his great legacy in all that he does in the entertainment.
Did you catch the play?
Photo Credits:  Courtsey of JL Ruffin and Sistah's Place