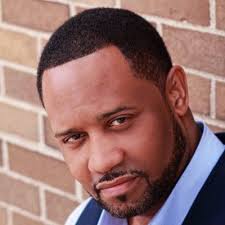 It was an honor to sit down with one of Chicago's director John. L. Ruffin.  The official premier of Ingrid Gator's His Love Her Lesson  a muscial stage play.   Mr. Ruffin has directed and written many stage play productions that are truly unforgettable here in Chicago supporters and fans like Dream Girls, The Color Purple, The Wiz, and so much many more over a 20 year span.  What better place to direct his last production than his hometown Harvey, Illinois at Thornton Township High School on May 7th at 7pm and May 8th at 4pm.    Take a listen to our interview as he shared  with us his passion about this play, his love of directing, writing, his inspirations, new projects in the pipeline, and advice for aspiring directors here in Chicago.
His Love Her Lesson has a great cast line up staring Jackee' Harry, Miguel Nunez Jr., Christian Keyes, Chris Bolton, Richard Gallion, Melinda Bussie, and Danny Steward just to name a few of the cast members.  The talent that Mr. Ruffin has lined up for this production's farewell performance will be one that Chicago will not forget.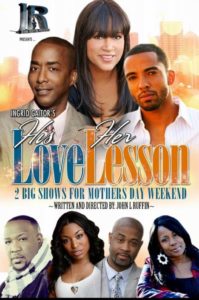 Play Synopsis (Eventbrite):  
Nicole Harris has been married for 16 years to her childhood sweetheart Maurice.  At one time Maurice was her priority, but one day she walks into a blast from the past, Donovan and seemingly her priority has changed.  One man wants love, the other one wants marriage, which will she choose? 
Even though this will be the farewell production for Chicago, John L. Ruffin will be working on other opportunities that will allow him to bring his fans and supporters new projects in film and television.  Mr. Ruffin say, "This is a year of manifestation."   You can follow him on social media to learn more about his projects.
Photo Credits:  Pictures courtsey of John L. Ruffin