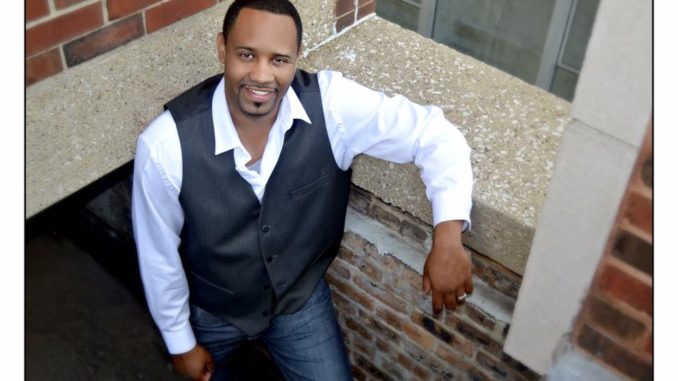 Mother's Day weekend was hot with the new hit stage play by John L. Ruffin titled If She Only Knew.  The stage play performance was at Thornton Township High School in Harvey, IL.  Mr. Ruffin had an all-star cast lined up that entertained the audience staring the talented Christian Keyes from the hits show Saints And Sinners playing Blake Hanley and Chicago's own Melinda "Sandi Redd" Bussie  Playing Rachel Hanley, Darrin D. Henson playing Ronnie Hanley.  With the many talents of Trina Dorsey, Alonzo Comedian PK Ruffin, Khadijah Freeman, Gary "G Thang" Johnson, Makeda Grier, Michelle Rivers, Tonya Wolfe, Reginald Hughes, Twon Cruise, Solo Upchurch, and Jennifer Dukes.  Was this a phenomenal cast line up or what?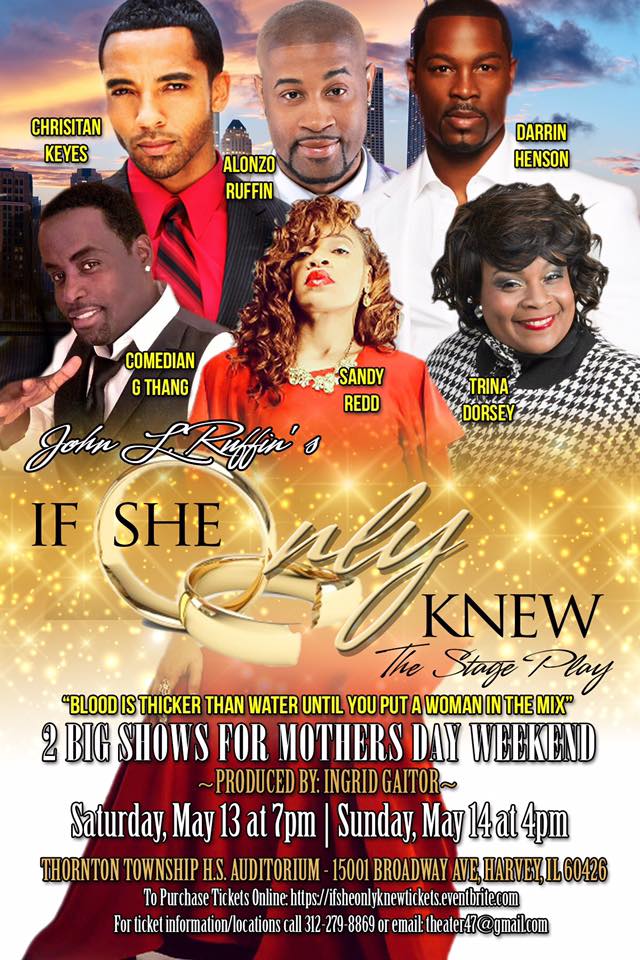 As with any of John's play, there is always a message that you can take away from each character's storyline.  The title fit the storyline perfectly with the various twists that had you cheering for the characters and talking back.  The music in the play was inspiring and this cast can truly sing.  The ladies brought the house down with their powerful voices from Sandy Redd, Trina Dorsey, Makeda Grier, and Reginald Hughes.  I love how John's plays address multiple issues that we as the audience can relate to within the story.
What messages did I walk away with after attending this play?
You must be honest with the man in your life about life changing events that will take away his "opportunity" as Blake (Christian Keyes) called it to have a child. You can't keep that a secret until he makes you his wife.
To treasure the gift that God gave you because everything that look good on the other side is not always good for you.
We all have demons in our past or closet to deal with so don't judge a person.
Make sure you see your spouse for who she or he is and understand their wants and needs.
One must forgive because it's key to feeling whole again.
You cannot live in the present holding onto anger from the past, break the generational curse.
Sometimes that god man or woman that you have been searching for is standing right in front of you.
When you remove and let go of dead weight and trust God, you will see them as they will see you.
You have to treat yourself to a John L. Ruffin play.  From the music to the storyline you will truly enjoy yourself.  I was inspired tonight by the storyline and messages shown with the various relationships that unraveled.  I pray that Mr. Ruffin will continues to bring more stage plays with the powerful and inspiring messages to Chicago.  He is an extraordinary talented Producer, Director, and writer.  God has an amazing plan for Mr. John L. Ruffin.  So, if you hear about a John L. Ruffin's Play then I strongly suggest you get yourself tickets to one of his shows.
Follow John on Social Media to keep up with his projects.
Facebook: https://www.facebook.com/johnruffinjr
Instagram: '@jruff89
Twitter:  @Johnlruffin
Photo Credits:  John L. Ruffin